In this episode of Non-Tech Techie, host Elma Pena invites Pratik Ghela, founder of MakeForms, to share pro tips on creating stunning forms easily. Pratik gives an in-depth demo of the product, highlighting features such as sensitive fields, custom links, response attribution, filtering responses, and multilevel dropdown menus. He also discusses design options, API integrations, compliance frameworks, and the recently launched payment feature. Pratik's expertise and passion shine through as he shares his journey and commitment to user privacy. 
In the age of digital marketing and online businesses, capturing user data is essential for driving growth and making informed decisions. This is where MakeForms comes in—a powerful form building platform designed to help businesses create stunning forms with ease. With its comprehensive features and user-friendly interface, MakeForms has become a top choice for entrepreneurs, marketers, and web developers alike. In this blog post, we will delve into the reasons why you should consider investing in MakeForms for your business.
MakeForms was created by Pratik Ghela, the founder of Make Stories, a popular platform that allows users to create interactive stories. With his background in web design and his experience with Make Stories, Pratik saw an opportunity to develop MakeForms as an extension of his previous product.
The goal of MakeForms is to provide users with an intuitive and user-friendly tool for creating forms that not only look great but also function seamlessly. Whether you're a beginner or an experienced web designer, MakeForms caters to all levels of expertise.
FREE Trial, No CC Required
MakeForms: The Most Powerful & Secure Form Builder, Yet
MakeForms is an advanced form builder that combines visual aesthetics, high-level security, and AI capabilities. Whether you're a small business or an enterprise, MakeForms equips you with tools that enhance teamwork and data collection. Starts at $29/month
Benefits:
✅ Enhanced Security: MakeForms prioritizes data security with always-on encryption, regular backups, and compliance with HIPAA, SOC2, GDPR EU & UK, ISO 27001, PIPEDA, CCPA, Australian DPA.
✅ Ease of Use: Our form builder is powerful yet simple, with a drag-and-drop interface that makes creating forms a breeze.
✅ Customization: Personalize your forms with your own branding and fonts and publish them on your own domain.
✅ Team Collaboration: MakeForms is built to facilitate teamwork, offering custom work environments with access control.
Key Features:
🌞 One Form: Many Forms: Create step forms or all-at-once forms with ease.
🌞 Eliminate Fake Leads: Built-in mobile and email verification features confirm user identities in real-time.
🌞 Build, Design, Publish: Quickly create, customize, and publish your forms with our user-friendly interface.
🌞 Data Collection & Organization: Collect responses and organize them with our feature-rich response manager.
🌞 Unique Form Templates: Stand out from the rest with our visually appealing form templates.
🌞 One Form; Many Sources: Generate multiple links for a single form and correlate responses to their respective sources.
🌞 Integration: Connect MakeForms with popular tools like Zapier, Google Sheets, Notion, Airtable for enhanced data management.
🌞 Data Visualization: Choose from Table View, Summary View, and BI View for valuable insights into your form results.
🌞 Workflow Builder: Streamline processes with custom workflows created through a user-friendly interface.
🌞 AMP Emails: Accelerate your data collection with Google AMP technology for a streamlined form-filling process.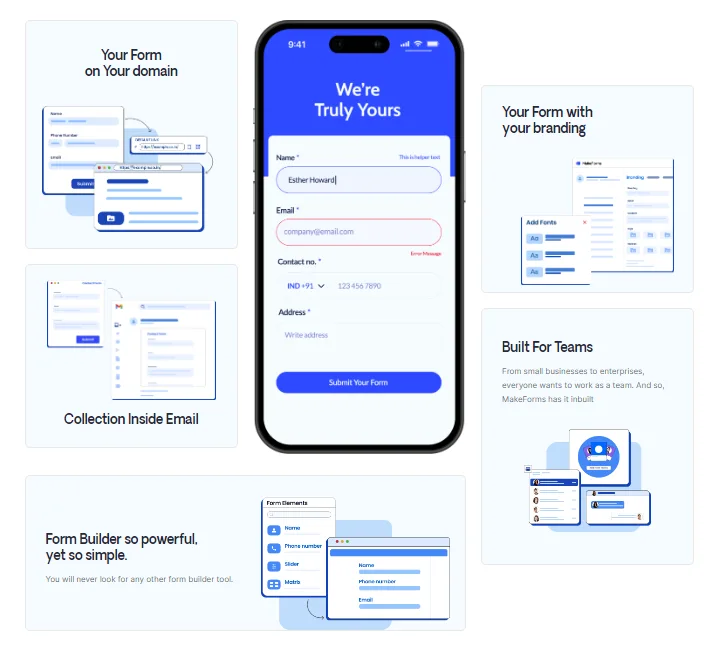 Disclaimer: Some of the links provided are affiliate links that I earn commission for, on any purchases made, at no extra cost to you. This helps me immensely to continue to do what I love.
Now, let's delve on the key benefits and features of MakeForms.
Key Benefits and Features:
1. Unparalleled Privacy and Security:
With increasing concerns over online privacy and data security, MakeForms takes center stage in prioritizing user privacy. The system offers various features to ensure data protection, such as marking sensitive fields, restricting access to confidential information, and preventing sensitive data from being shared in email notifications. MakeForms is compliant with multiple privacy regulations like GDPR, HIPAA, and CCPA, making it a reliable and secure platform for collecting customer data.
2. Endless Customization Possibilities:
MakeForms provides users with a wide range of templates and design options, allowing you to create forms that perfectly align with your brand identity. From changing colors and fonts to adding custom CSS, MakeForms grants you the freedom to customize every aspect of your forms. You can effortlessly create multilevel dropdown menus, include legal consent checkboxes, and even add electronic signature and file upload functionalities. The flexibility provided by MakeForms ensures that your forms are not only aesthetically pleasing but also highly functional.
3. Advanced Calculation Features:
If your business requires complex calculations or valuation processes, MakeForms has got you covered. The platform allows you to create calculation fields using multiple factors and variables. You can build valuation calculators, currency conversion tools, and much more with just a few clicks. The calculated fields enable you to make data-driven decisions, leading to more accurate results and improved efficiency.
4. Data Tracking and Analysis:
MakeForms offers robust data tracking capabilities that allow you to gain valuable insights into your form responses. By using custom links with source parameters, you can easily track and differentiate responses from different marketing campaigns or sources. The source response attribution feature further provides an overview of the number of responses received from each link. With the ability to mark responses as seen or unseen, add notes, apply tags, and mark favorites, MakeForms helps streamline your data analysis process. You can filter responses by tags, customize columns, and refresh the page to view the latest entries.
5. Seamless Integrations:
MakeForms integrates flawlessly with various third-party applications and tools, enhancing the overall functionality and automating workflows. The platform's APIs allow for seamless data exchange with external systems, while popular integrations like Zapier, main.com, and Pabbly Connect offer unparalleled flexibility. MakeForms enables you to connect with your favorite apps and services, ensuring a smooth and efficient workflow for your business processes.
6. Superior Support and Continuous Improvement:
When it comes to customer support, MakeForms goes above and beyond. The company boasts a dedicated support team committed to addressing any queries or concerns promptly. While being a small team, they take pride in their customer-centric philosophy and strive to provide exceptional service. Furthermore, MakeForms actively listens to user feedback and continuously improves the platform based on the suggestions and needs of their user community. This commitment to ongoing development ensures that MakeForms remains a cutting-edge solution for all your form building requirements.
MakeForms is the ultimate form building solution that empowers businesses to create stunning and highly functional forms effortlessly. With its focus on privacy, customization, advanced calculations, data tracking, and seamless integrations, MakeForms emerges as a frontrunner in the form building space. Whether you're a solo entrepreneur, a small business owner, or part of a larger marketing team, investing in MakeForms will enable you to collect, analyze, and leverage user data more effectively, propelling your business towards success. Embrace MakeForms today and witness the transformational power of intelligent form building.